Historical Background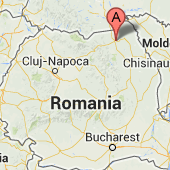 Ițcani is a small town in northeastern Romaniain, in the region of southern Bukovina. Today it has been incorporated into the city of Suceava. Very little has been written about the early Jewish settlement of Ițcani. Like many towns in Bukovina, significant Jewish settlement did not occur until the mid-19th century. During the Austro-Hungarian period, Ițcani lay directly on the border with Romania and much of its economy derived from the resulting brisk trade in goods. Its large and stately train station was opened in 1869, connecting Suceava, via Ițcani, to Czernowitz and the rest of the empire. Shortly thereafter, the train line was extended across the border to the Romanian border town of Burdujeni. In 1880, the Jewish population of Ițcani (Itzkany in German) was 420 or almost 50% of the total population. By 1900, the population was 578 or 41% of the population.
Due to its close proximity to Suceava, many children went to school in the larger town and the two communities interacted closely. Nevertheless, Ițcani did have its own synagogue and cemetery. Many of the town mayors were Jewish, including Samual Hellmann, who later became the president of the Suceava Jewish community.
The Jews of Ițcani were deported along with the Jews of Suceava to Transnistria in October 1941. The vast majority of survivors emigrated to Israel after the war. The cemetery is relatively well-maintained; the synagogue was torn down in 2010.
Suggested reading
Martin Hass, "Itzkany." In: H. Gold (ed.), Geschichte der Juden in der Bukovina, 2 (Tel-Aviv: "Olamenu",1962), 87-88.
Author
Julie Dawson
Helpful links
Entry on Suceava in this catalogue.
http://czernowitz.blogspot.com/2010/09/bukovina-census-for-years-1869-1880.html