Historical Background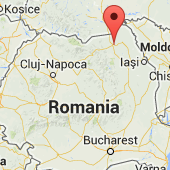 Burdujeni is a small town in the region of Moldova in Romania. It lies on the border of southern Bukovina and has today been incorporated into the city of Suceava. Jews began to settle there from 1792 when the urban settlement was founded, and there were 183 Jewish taxpaying heads of families in 1820. During the 19th century, the number of Jews grew to constitute the majority of the population, numbering 1,140 (two thirds of the total) in 1859 and 2,038 in 1899. A Jewish school for boys was founded in 1898, with the help of the Jewish Colonization Association (ICA). In 1907 anti-Jewish riots broke out in Burdujeni as a result of the peasant uprisings sweeping the Romanian countryside. After World War I the Jewish population decreased, numbering 1,244 (25.7% of the total population) in 1930. A Jewish elementary school for boys was functioning then in the town. After the outbreak of the war against the U.S.S.R., all the Jews of Burdujeni (1,261 persons) were deported to Transnistria and their property confiscated (October 9-10, 1941). Half of them died. Survivors returned to Burdujeni after the war. About 20 Jewish families were living there in 1970. In 2004, no Jews lived in Burdujeni.
Suggested reading
Pinkas ha-kehilot: Romanyah, vol. 1, pp. 76-77 (Jerusalem, 1980).
M. Carp, Cartea neagra, 3 (1947), index.
J. Ancel, Toledot ha-Shoah. Romanyah, I (2002), 700-4.
R. Goldsmith, "Shtetl Project: Burdujeni (Memories of Burdujeni)," in ROMSIG News (2000).
The above is also available at the YIVO Institute, Call # 00073452. This file includes a hand drawn map of the shtetl.
Author
Eliyahu Feldman, Theodor Lavi, and Lucian Zeev-Herscovici
From
Feldman, Lavi, and Zeev-Herscovici, "Burdujeni." In: Skolnik, Fred (Editor). Encyclopedia Judaica 22 Volume Set, 2E. © 2007 Gale, a part of Cengage Learning, Inc.
Reproduced by permission. www.cengage.com/permissions.
Helpful links
Entry on Suceava in this catalogue.