Historical Background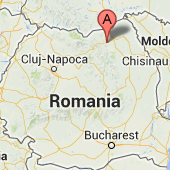 Gura-Humorului is a town in northeastern Romania, in the region of southern Bukovina. Frescos with a tableau of the "Day of Judgment" painted between 1547 and 1550 depicting among others Turkish and Jewish figures are found in the Voroneț monastery here. A lone Jew lived in this town in 1788. Jewish settlement began in earnest under Austrian rule in 1835, with five Jewish families (in a total population of 700). They increased to 20 by 1848 and formed an organized community. Prayers were first held in a private house. The first synagogue was erected in 1869, and the Great Synagogue in 1871. As in the other communities of Bukovina, the influence of Hasidism was strong. At first occupied as craftsman, merchants, and purveyors to the Austrian army, Jews later established workshops for wood processing and lumber mills. At the close of the 19th century, they played an important role in the industrialization of the town. The community numbered 130 persons in 1856, 190 in 1867, 800 in 1869, 1,206 in 1890, 2,050 in 1910, and 1,951 in 1927. In 1880 it became possible to elect a community council and an executive board in accordance with Austrian law. The first rabbi Meshulam Gebirer, was hired in 1860. Other rabbis were Menachem Mendel Babad and Meshulam Ginzberg. The cemetery was established in 1857. Many of the Jews were Sadagura hasidim, others were Vizhnitz hasidim.
After the town passed to Romania at the end of World War I, and throughout the period between the two world wars, the authorities endeavored to restrict the Jews in their economic activities and there were also occasional anti-Semitic outbreaks. The Zionist movement, formed locally at the beginning of the 20th century, had a large following. Aliyah to Erez Israel began during the 1930s. At the time of the persecutions by the Romanian Fascists, 2,954 local Jews and others who had gathered there from the surrounding area were deported in a single day (October 10,1941) to Transnistria. In March 1944 around 1,500 were allowed to return. After the end of World War II, the survivors were joined by other Jewish inhabitants of the region who returned from their places of deportation, and numbered 1,158 in 1948. Nearly all the Jews there immigrated to Israel between 1948 and 1951. In 1997 only 10 Jews lived in Gura-Humorului, with one synagogue.
Suggested reading
H. Gold (ed.), Geschichte der Juden in der Bukovina, 2 (Tel-Aviv: "Olamenu",1962), 84-87.
S. Yeshurun (ed.), Gura Humora: A Small Town in Southern Bukovina (Israel: Association of Former Residents of Gura Humora and Environs, 1997).
Author
Yehouda Marton and Lucian Zeev-Herscovici
From
Marton and Zeev-Herscovici, "Gura Humorului." In: Skolnik, Fred (Editor). Encyclopedia Judaica 22 Volume Set, 2E. © 2007 Gale, a part of Cengage Learning, Inc.
Reproduced by permission. www.cengage.com/permissions.
Helpful links
http://czernowitz.blogspot.com/2010/09/bukovina-census-for-years-1869-1880.html